Tuesday 9/17

By a vote of 5-2
DICK WINS BB8!

---

Eric says it was an easy choice.
---

Jameka says her vote will be going to someone's whose game she respected.
---

Dustin says 'actions speak louder than words"

---

Jen says she would rather vote for anyone else.

---

Zach doesn't say anything important

---

Amber says her vote is based on strategy.

---

Jessica voting for the person she enjoyed the most in the house.

---
Eric is revealed as AMERICA'S PLAYER
and he tells Dick that he owes America a "Big Fat Thank-You"
Sunday 9/16 - Monday 9/17
Early Sunday morning, just after midnight, Dick and Daniele were questioned by the jury.
We didn't get to see it of course but judging from Daniele's attitude, it didn't go well for her.
It's obvious to them from the questions that the jury feels Daniele just rode Dick's coat tails.
Danielle is upset, crying and just wants to go home (again). She's also mad at her Dad for not going after the Jury like he told her he would.
She has spent most of the day either sleeping or ignoring her dad.
Friday 9/14
Saturday 9/15

This is about all we'll see for the next few days...
yawn
Thursday 9/13

DICK WINS FINAL HOH!!!
Dick shouts out..."We won this thing!"
then...
DICK VOTES OUT ZACH
Sunday night will be a highlight show with Dick and Daniele discussing the season

Tuesday will be the live finale where Dick will probably be crowned the winner
and Eric wil be revealed as America's Player.
Here's a fun clip that real player had on during the live feeds the other day.

Wednesday 9/12

DICK WINS PART 2 OF THE HOH COMPETITION
He's upset about not winning a car for some reason.
He will now face Zach in the HOH final on Thursday night.
Winner gets to choose who goes with him to the finals.
Tuesday 9/11


At about 2:30am, Dick can't take it any longer and steps down.
ZACH WINS PART 1 OF THE HOH COMPETITION
Wow, this took quite a physical toll on Dick.
---

The final 10 minutes of the 7 1/2 hour competition
---

Part one of the 3-part HOH competition is underway.
As of midnight, Zach and Dick are still alive...Daniele has dropped out.
---
DANIELE USES THE VETO AND TAKES HER FATHER OFF THE BLOCK
ZACH HAS NO CHOICE BUT TO NOMINATE JAMEKA IN HIS PLACE

DICK VOTES OUT JAMEKA
Sunday 9/9

Monday 9/10
There is NOTHING going on these two days of any significance.
Really...nothing at all.
Here is where we stand:
Daniele won the Veto on Saturday and on Tuesday will take herself off the block.
Zach will have to put up Jameka in her place.
Daniele will be the only one voting so she will vote out Jameka,
leaving Zach, Dick and Daniele as the final 3.


The 3-part HOH competition will begin Tuesday night.
This is usually an endurance comp and should last well into the night.
Saturday 9/8

DANIELE WINS VETO!!!
This means that Jameka will be going home.
Dick is very happy with today's results. He is doing a lot of talking tonight about past gameplay and strategy.
Friday 9/7
ZACH NOMINATES DICK AND DANIELE!
The most revealing thing is, Dick tells Daniele about the letter he got from his son that had secret codes about who to trust. Watch the video...

Thursday 9/6


ZACH WINS HOH!!!
It happened after the live show and just before the Showtime feeds began.
---
BUSIEST DAY OF THE YEAR!
Here's how it went down...

JESSICA IS EVICTED 2-1
---

DICK WINS HOH!!!

---

DICK NOMINATES ERIC AND JAMEKA!

---


ZACH WINS THE VETO!!!
Zach DOES NOT use the veto
---

ERIC IS EVICTED 2-0
Wednesday 9/5
Another day of nothing. I'm not just being lazy, trust me.
Wednesday evening on one of the feeds was this chat with Janelle.
Kind of fun...


Big day tomorrow!!!
Tuesday 9/4
So far today...not a thing to report (As I said before, get used to it)
That's the real problem with this show. It's so much fun at first but as the season progresses and people are eliminated, it slows to a grinding halt. The last week of the season is brutal.
---
Off the subject for a second...
New iPODS are announced tomorrow!!!
---
There won't be anything going on today.
Ever since Jen left, it's been a big giant snooze-fest.
The plan is still for Dick to make a deal minutes before the live show.
That will set up some fireworks...finally but only for about 30 minutes as it is a double eviction week (they don't know this).
This game will really change dramatically on Thursday!
Monday 9/3
Daniele did NOT use the Veto!
Zach and Dick have a plan to approach Jameka just before the votes are cast and make a deal with her, then voting out Jessica. Again...it's real early.
Sunday 9/2
Nothing - nothing at all going on today.
*Yawn*
Saturday 9/1
The Veto competition turned out to be the only item of importance for the entire day.
They were given beer and body paint just in time for the showtime feeds but again,
pretty simple stuff...
---

DANIELE WINS THE VETO!!!
They held the competition at midnight, Janelle from last year hosted.
Friday 8/31
ZACH NOMINATES JAMEKA AND JESSICA!
---
Lots and lots of pressure on Zach today.
Daniele had him convinced to put up Jessica and Eric.
Eric started feeling the heat and spent an hour convincing Zach to put up Jameka instead.
---
Jessica got her phone call from home today.
It was a 3 minute conversation with her brother who just returned from Iraq.

---
As of this morning...Zach will probably put up Jameka and Jessica with Jameka targeted to go.


He confirmed this to Dick overnight and Dick passed it on to Jessica.
Thursday 8/30
During the show tonight, Julie Chen announced that next Thursday will be a double eviction!!!
---


ZACH WINS HOH!!!

Also during the competition, Jessica won a phone call from home.
---

AMBER IS EVICTED 3-1
(Jameka was the lone vote)
Wednesday 8/29
Another day of nothing happening.
Even Dick commented during the Showtime feeds that tonight may be the worst show yet for Showtime.

---
Today is HOH Photo day...

Eric and Jessica have been making out most of the early morning.
(They haven't gone to sleep yet so when they do, they probably won't get up until 1 or 2)
He has also confessed to her about all the crazy things he has done like the Mustard and the random votes. I thought he was about to tell her about "America's Player" but he didn't.
Jessica is now calling him her little P.V. (Phantom Voter)
It's just about 8:00am - they're still making small talk in bed...
Tuesday 8/28


Zach and Amber have begun to step up their campaigning to stay.
Still nothing confirmed as to which way it's going to go.
---
Another day of really nothing of any importance happened - get used to it.
They usually sleep in till almost noon, just about every day now
Monday 8/27
ERIC DID NOT USE THE VETO TODAY
Nominations stay the same.
Sunday 8/26
Nothing of any importance at all, happened today!!!
---
In the wee hours of the morning, Eric and Jessica share their first kiss...
Saturday 8/25
Dick, Daniele, Eric and Jessica's alliance is now stronger then ever.
They are calling themselves the "Little Julie Chens" (LJC)
---
Eric and Jessica's early morning conversation has only brought them closer. Their pretend flirting is no longer in the "pretend" mode and they are more open about it around others.
---
ERIC WINS THE VETO!
Nominations will probably stay the same now with Amber leaving on Thursday.
Although, Dick has had just about had enough of Zach so I can see him making a convincing push for him to go instead. The group usually does whatever Dick wants...
---
At 5:00am, Eric is still trying to explain to Jessica about his old girlfriend.
This is what Jen told Amber to tell Jessica as Jen was walking out the door on Thursday.
Friday 8/24


JESSICA NOMINATES ZACH AND AMBER!
Not a lot of game talk going on tonight.
Looks like Amber is the target although Jessica says she really didn't care.
Right after nominations Amber went to her room to cry and read the bible.
Later in the evening Jameka had a HUGE praying/crying session alone in the HOH room.
The Jen bashing continues through the evening...
---
There was a luxury competition earlier in the day
The girls won a wardrobe shopping spree in the house.
The kind where you keep as much as you can wear at one time.
Thursday 8/23

JESSICA WINS HOH!!!


JEN IS EVICTED 6-0
Wednesday 8/22
Late in the evening, Dick and Daniele got into a pretty big, believable argument because Dick realized that Daniele didn't include him in her deal with Amber.
---
Dick and Zach got into a pretty good argument about who should take credit for saving Dick.
Zach claimed it was because of him
The whole thing began with Zach even hinting at saying something nice about Jen.
---
Jen is just getting torn apart from everyone. It's really not fun to watch.
---
Amber and Daniele have returned from NY but can't talk much about their trip.

it continues...

---
On a much lighter note - sort of.
Here's a clip from Dr. 90210 that just aired on the E! Channel with Will and Boogie.
It seems that Boogie has a wart on his....well....you'll just have to watch the clip.

Tuesday 8/21
Big Brother changed the rules again...
They apparently realized that the original penalty nomination wasn't fair to Jameka so they changed it to a one week only penalty. Jen will have 1 vote against her even before the other 5 begin voting. Basically, it means she'll now be voted out 6-0 instead of 5-0
I don't expect Jen to last - she is getting the silent treatment from everyone except Dick who is ragging her more than ever - more like rubbing it in..
My money's on her walking out the door before Thursday.
---
Before all the action last night, I thought it would take a miracle for Jen to survive this week.
Miracles DO happen...
The penalty nomination Jen received has major implications. So much so that very late last night/early this morning, Dick, Zach and Eric concocted a plan...
1. Vote out JAMEKA this week.
2. Let AMBER win HOH (so she can't win it the following week)
3. Vote out JEN next week because she will have to be nominated and can't get off by HOH or Veto.
4. The following week, Amber can't win HOH so she'll be voted out.
Their final five is then set..
Don't these people know that you can't make plans 3 weeks in advance...
Monday 8/20
BEST...MONDAY...EVER!!!

Jen destroys ALL of Dick's cigarettes. (She was told earlier she could)
Dick hides all of her clothes up in Daniele's HOH room.
Big Brother runs to the store to buy new ones and calls Jen into the DR to replace them.
Jen's pissed!
As a protest she is eating non-stop, even though she is on slop.
Big Brother has said nothing...
Dick is harassing her more then ever now.
It looks like Jen is going to try to get Dick to do something stupid to get kicked out.
Dick is blowing smoke in her face just to piss her off.
Jen tries to force him to stop by pushing his hand away.
Dick protests and the feeds cut out...
Jen has returned saying that she was told by Big Brother that if she stays next week, she will have an automatic penalty nomination and can't be veto'd...so why stop eating now.
---

Amber and Daniele left to go watch a taping of "THE POWER OF 10",
something they won during the VETO competition.
---

DANIELE TAKES AMBER OFF THE BLOCK
AND PUTS UP JEN IN HER PLACE!
Not looking good for Jen right now. If America wants her gone too, it could be unanimous.
Things always have a way of changing over the course of a few days but I don't know how she can get out of this one...
---

Early this morning, Eric gave his "Woobie" to Jessica.
(Come on America, that was too easy!)
---
Very early this morning (between 1:00am and 3:00am), Eric lost a bet and put on one of Jen's bikinis and later had his body painted by the other players. Very funny!
I'll post a video as soon as I find one.
Sunday 8/19
Big Brother threw a party for Daniele's 22nd Birthday.
Actually it's her 21st but only she and her dad know that.
---
Eric and Jessica stayed up, chit-chatting in the backyard until almost 8:00am this morning.
Dick was with them off and on until 7:30am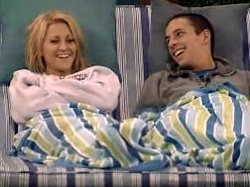 Obviously, there won't be much happening in the house today although Daniele and Amber may have won a trip outside the house in yesterday's veto comp so that may happen today.
Saturday - 8/18
Daniele has worked out a deal with Jameka.
Daniele will take Jameka off the block and put up Jen.
Jameka in turn will keep her and Dick safe.
Which makes no sense to me since she can't win HOH.
She should have made the deal with Amber.
Maybe I'm missing something...
---

DANIELE WINS THE VETO!
She initially said she won't be using it but then backtracked.
She knows she can make some deals now to keep her and her dad safe next week.
Friday - 8/17
Poor Jen, she has absolutely no idea that she is the target this week.
As of now, the only hope she has of staying is if she wins the veto.
(and she may not even be playing)
---
DANIELE NOMINATES AMBER AND JAMEKA


Jameka is pretty upset but she had to know it was coming. She's alone outside of HOH, praying.
The plan is still to back-door Jen if they can.
(Which makes no sense to me - I'm sure the producers will talk them out of it)
Dick and Daniele tell each other that hopefully Jen won't be picked for POV.
---
Always a big moment every season...


The table is replaced by a smaller one
Thursday - 8/16
Lot's of Dick and Daniele talking during the evening.
As of now, the plan is to nominate Amber and Jessica and then back-door Jen.
They also mention that they think Eric is involved with the show somehow...
the feeds immediately cut off...
---
DANIELE WINS HOH


Gonna be a long week for Amber and Jameka
---

DUSTIN IS EVICTED 4-2
Somehow Dick and Daniele convinced Jen to stick with them since earlier in the day she was vocal about wanting Dick gone.
Dustin was SHOCKED about leaving (as was Amber and Jameka) and he was convinced it was all Eric's fault.

---
6:00am: Dick is now in fill swing protection mode, planting seeds of doubt about everyone's alliance.
He's also making promises and at this point, may have saved himself.
It looks like Eric will be siding with him and may bring along Jessica as well.
Jen, Jameka and Amber all want Dick gone though.
Meanwhile,...overnight, Jen, Eric and Jessica hid many items in the house to make the others think it had something to do with the HOH Challenge.
Wednesday - 8/15
Around noon, things finally started happening in the house...

A little mad hatter guy showed up repeating phrases like:
What a tangled web we weave
There is no little enemy
Three can keep a secret, if two of them are dead.
A Snitch in time saves nine.
Fish and visitors stink after three days


Then...a Pirate on stilts and a barber shop quartet showed up outside.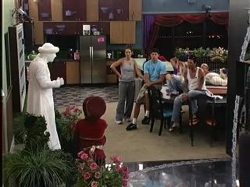 and finally, back in the house, a statue guy appeared.
Must have something to do with the HOH on Thursday.
---
The talk early in the morning among many of the players is how the Diary Room questions to them are clearly pushing them to save Dick and to vote out Dustin.
Eric' is pushing to save Dick so America must have chose for him to vote out Dustin.
Jen is leaning towards voting out Dick but the Diary room is trying to change her mind.
Zach will be voting for whoever Jessica asks him to.
Tuesday - 8/14
There won't be any "events" happening today or Wednesday.
It looks like Zach may be the deciding vote this week. Right now he's leaning towards voting Dick out but Daniele and Dick will be working him real hard to secure his vote.
It looks like America has voted for Eric to give Jessica the "Cold Shoulder".
He's not talking to her at all, using the "I'm sick" line.

---
Since there won't be anything happening today, I'll give you this little gem I found online.

I forgot how much fun these two were...
Monday - 8/13
DICK SAVES DANIELE AND NOT HIMSELF WITH THE VETO
JESSICA PUTS UP DUSTIN IN HER PLACE!


Dustin is obviously the pawn but if America has Eric vote for Dustin, it could very well be Dustin leaving 4-2. That would totally send the house into a tizzy!
Right now Dick is "workin' the room" apologizing for all his earlier actions.
Sunday - 8/12
I'm not being lazy here...
There's just really nothing of any importance happening right now.
It will pick up again tomorrrow with the Veto Ceremony.
---
There are no events planned for today.
It'll be interesting to see what Dick plans to do with his veto on Monday.

Will he do the ultimate sacrifice and save his daughter?
It looks like he will.
Saturday - 8/11
DICK WINS THE VETO!
He has calmed down now....
---
Dick is determined to cause as much trouble as he can in the house before he leaves.
He wants to be sure he goes this week, not Daniele.
In the wee hours of the morning he was tossing various articles of clothing of the other players up onto the roof.
Now that everyone's up he's banging pots, ranting against everyone, just being a total ass.

WARNING: Very strong language
Everyone except Zach and Daniele are up in the HOH room to get away from him.
---
Earlier in the morning, Amber, Jamika and Jessica decided that they want Daniele out before Dick. (This is before Dick started his rampage)
(CBS must be coaching them in the diary room like they did last week in keeping Eric)
It's still soooo early in the week though...
Friday - 8/10
Dick and Daniele spent much of the evening practicing croquette. He was giving her many pointers on the strategy of the game. They're thinking maybe it'll come in handy for the Veto comp.
Jameka came out later to practice but was heckled the whole time by Dick.
---

DICK and DANIELE ARE NOMINATED!
Pretty much the entire house wants Dick gone.
Unless he wins VETO, it'll be the first unanimous vote
---
Jen, Dick and Dani compared notes this morning and realized that the producers in the diary room played a big part in influencing votes this week to save Eric.
Thursday - 8/9
Dick and Jameka really get into it.

Dick knows the probable outcome of this week so he's not holding anything back.
This clip also shows another side of Jameka.
---

JESSICA WINS HOH!
There is absolutely NO doubt that she'll be putting up Dick and Daniele
---


KAIL IS EVICTED 4-3
Something has happened.
Eric was a dead man walkin yesterday but over the next few hours, Amber and her group of Jessica, Dustin and Jameka have decided that it's better for them if Eric stays and Kail leaves.
(I think Big Brother must have helped them make this decision too)
This will be shocking news to Dick and Daniele and I can't wait to see it play out.
Wednesday - 8/8
Wow, Amber let loose on Eric this morning.
Guess we know how she's voting. I never thought she had this in her.
All I can say is...wow!

Sadly, Eric's whole downfall was that darn banner and his last two America's Choice votes he had to make. Two things out of his control.
Tuesday - 8/7
Highlights for Tuesday?
Amber has her hair braided by Jameka
Amber and Dustin reach an agreement with Dick to vote out Eric in return for one week of freedom next week. (Not looking good for America's player.)
Monday - 8/6
Dustin's turn to be on the receiving end of one of Dick's rants...

---
JEN USES THE VETO ON HERSELF
DANIELE PUTS UP ERIC IN HER PLACE
Zach pledges his allegiance to whatever Dick wants.
The bunnies have been told they have to wear the FULL costume for the next few days.
Lots and lots of "workin' the room" by everyone involved this week.
Sunday - 8/5
Dustin suggested to Daniele that she should put Dick up. Dick confronts Dustin and he admits he did it, basically telling him the entire LNC wants it. Dick is livid.
Eric spent the night trying to secure votes to keep him and Kail did the same.
Round and Round they went - my head hurts.
Expect this to go on on every day until Thursday.
---


The new alliance has grown to four. They think that maybe Jessica will join but I doubt it. The plan is still for Daniele to Back-Door Eric and they have been told they have the votes but the rest of the LNC is lying.
Expect, as of now, for everyone else to vote Kail out to show the house that
1) Dick no longer has power and 2) Daniele's word is no good.
---
There won't be anything happening today. Everyone in the bunny suits had to be woken up every hour and have some sort of watery slop dumped on them.
Saturday - 8/4

Good God! Jen and Dick just called a truce and formed an alliance...I kid you not!
---

JEN WINS VETO COMPETITION!!!
It came at quite a cost though - about $250,000. (1/2 her potential winnings)
Plus, 4 or 5 of them have to wear bunny suits for a week and I think Kail and Jameka can't compete in the next 4 HOH competitions.
Friday - 8/3


DANIELE NOMINATES KAIL AND JEN!!!
Meanwhile, feeling the heat coming down, Eric and Jessica are scrambling trying to figure out a way to save him from being back-doored.
---
LNC just had a pre-nomination meeting and decide to put up Kail and Jen with Zach as the third if one of them comes down.

I knew we would get this today!
Have I mentioned how much I love this stuff...
---
I gotta say, Eric is real good at this game. He completely turns all the evidence against him into making everyone believe it's all Jen. Ooooh...he's good!
Thursday - 8/2

Wow...
Turns out this banner WAS seen by a few people.
Eric is now on thin ice. So much so that Dick and Daniele are discussing back-dooring him this week.
Dick is so steamed - it's hilarious. Expect a Jen-type rant towards Eric very soon...

WARNING: Dick drops a lot of F-Bombs in this clip!
---
ALL the talk in the house right now is Jen going home next.
---
After a 2+ hour battle,
DANIELE WINS HOH!!!
It came down to Kail and Daniele.
Daniele promised Kail she won't be going home.
---
The competition had to be stopped momentarily, right after it started when this banner flew overhead.
The producers made sure nobody saw it.
Kudos to the banner people for finally flying it when everyone HAD TO BE OUTSIDE!
---
NICK IS EVICTED 6-2
---
Still looks as though Nick is going although late-breaking news has Kkail revealing to many people that she's ready to go.
UPDATE: This diary room audio was accidently leaked showing the producers trying to talk her out of it.
---
Dick is really going at Jen...again
---
Everyone has been locked inside since last night so Big Brother must be planning a huge HOH competition. Expect some sort of endurance challenge.
Hopefully it will last long enough to make the Showtime feeds.
Wednesday - 8/1
Another banner flew overhead this morning and again...nobody saw it.


Obviously, somebody wants Nick to stay.
---
So...where do we stand now...
Kail, Jen, Amber and maybe Jameka are beginning to form a nice friendship.
Eric and Jessica are slowly becoming the floaters.

5 of the 7 LNC are getting a little tired of the Dick and Daniele show.